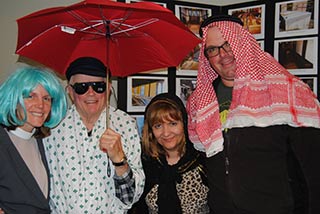 Discipleship Groups are small groups who meet weekly or biweekly for prayer, fellowship, and
spiritual practice.  Contact the Rev. Duncan Hilton (duncan@stmicahelsvermont.org) if you'd like to learn more.
Volunteer for one of St. Michael's many ministries!  Some are short term commitments like the Fall and Spring Tag Sale.  Check out the announcements for news of what is happening at the current time.  There are few better way to connect than to work together!
New Attenders Gatherings take place in the spring and fall for those who are new to St. Michael's. These gatherings are put on by St. Michael's Welcome Ministry. Please contact Sarah Benton at swbentonvt@gmail.com if you are interested in helping or attending.
Exploring the Episcopal Church is a class offered once or twice a year by the Rector. This class is great for people who are new to the Episcopal Church, or new to Christianity in general. Please contact Mary Lindquist if you are
interested at mary@stmichaels-vt.org.
Education for Ministry (EfM) offers an opportunity to discover how to respond to the call to Christian service. Sessions meet weekly during the academic year. While the full program is a 4-year one, a person registers one year at a time. The first year of study is the Old Testament or Hebrew scriptures, the second is the New Testament, the third year is early church history, and the fourth year explores 20th- and 21st-century church happenings. Each class seminar focuses on some relevant issue from our culture, our personal lives, or scripture through a process called theological reflection. In the process of our meetings, we ask the "So what?" question:  what difference does our faith make as we engage in the world? If you are interested in this ministry, please contact Linda Rice (lindariceaprn@gmail.com) or David Mattocks (davidvermont@gmail.com) or call the church office (254-6048).
Coffee Hour happens every Sunday following the 10:15 am service in the Undercroft (downstairs) or outside the church (in the summer). Please join us!
Seasonal book studies and other small-group opportunities are offered at different times of the year. Please look at our Upcoming Events link to see our latest activities.