"Seven times a day I praise you" – Psalm 119:164
The Daily Office
This is an ancient practice that uses daily prayers to mark the times of the day. For Anglicans and Episcopalians, this generally comes in the form of the two main offices of Daily Morning Prayer and Daily Evening Prayer. They may be led by lay people and are said communally or individually. Other offices as set forth in the Book of Common Prayer (BCP) include Noonday Prayer and Compline (an office said before going to sleep). St. Michael's currently practices Morning Prayer as a community every weekday on Zoom.  You can find the link HERE. 
History
From ancient times worship has been not just a weekly but a daily affair. For devout Jews, daily prayer rested upon the divine command:
"Hear, O Israel: The LORD our God, the LORD is one. Love the LORD your God with all your heart and with all your soul and with all your strength. These commandments that I give you today are to be upon your hearts. Impress them on your children. Talk about them when you sit at home and when you walk along the road, when you lie down and when you get up." -Deut. 6:4-7
This was taken to mean that the Shema was to be said twice daily – upon waking and upon going to sleep. There's also evidence that the Temple sacrifices took place twice a day: once in the morning and once in the evening. Those unable to attend the Temple liturgies began to pray at the same "hours."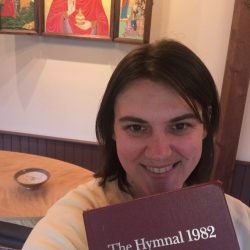 As monastic communities developed, they formed their entire lives upon the rhythm of daily prayer. They consisted of prayers, a psalm, appointed Bible readings, canticles, and the Lord's Prayer. Eventually seven offices developed: Matins, Prime, Terce, Sext, None, Vespers, and Compline. St. Benedict's Rule (ca. 540) establishes common pattern:  Nocturns and Lauds (middle of night), Prime (6:00), Terce (9:00), Sext (12:00), Nones (3:00), Vespers (sunset) and Compline (before bed).
 Each office included Psalms, Scripture Reading, Verses and Responses, and Set Prayers. 
At St. Michael's, we practice the Daily Office by offering Morning Prayer weekdays at 8 am.  Currently, we are meeting via Zoom all weekdays and in-person/hybrid on Tuesdays and Wednesdays in the Chapel.  Please check out our Prayer page to find the links.