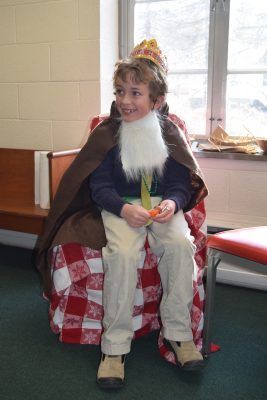 Because of safety concerns with Covid, our Sunday programs for children and youth have been modified..  Go here to find more information about current offering.  
Godly Play (ages 3-11) meets Sundays at 10:05 am during the first half of the 10:15 am worship service.    Godly Play is a Montessori-inspired Christian formation program based on the recognition that children have an innate sense of the presence of God. All they lack is the appropriate language to help them identify and express it so it can be explored and strengthened. The Godly Play approach teaches classical Christian language in a way that enhances the child's authentic experience of God so it can contribute to the creative life of the child and the world. Children then join their parents during the Peace so that they may participate in Holy Communion with the rest of the congregation.
Holy Mayhem (for kids 6-8th Grade) is held twice a month from 10:10-10:45pm. Holy Mayhem starts with a snack, some lively learning and conversation and lots of opportunity to explore our faith.  Meets in the Small Meeting Room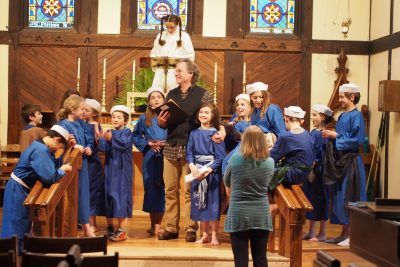 The Choir School (ages 8-16)  was created by St. Michael's in the fall of 2013 for children in the community and from St. Michael's.  In 2016, we began a second class for beginning Choir School students — The Choir School,  Level One.  In 2019, we will begin another offering – Little Squeaks, for children ages 5-7.   Choir School, Level One and Little Squeaks take place on Thursdays from 3:45-4:30pm.
Our hope is to provide a nurturing environment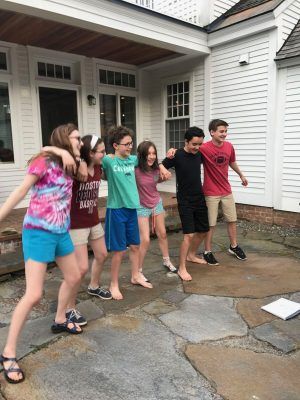 for singing a variety of material drawn from both the classical repertoire as well as from contemporary and world music. The choristers gather for 6 week sessions, four times a year, ending with a service or play led by the children.   The Choir School is open to all regardless of religious affiliation or level of musical ability.   As a program of St. Michael's, there is no cost for the classes; we do however encourage donations so that we can continue to offer these classes free of charge.  For more information, please call the Church office, 254-6048, or email Susan Dedell at dedellsusan@gmail.com
Youth Discipleship Group (ages 12 and up) meets every other week on Sunday afternoons from 12-1pm during the academic year.   The Discipleship Group is a youth-led, hour-long time of prayer, reflection on scripture and sharing.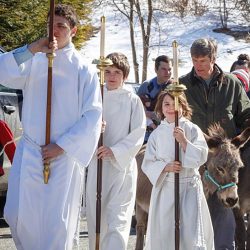 Acolyting (ages 8-adult)- Any child interested serving as an acolyte during the 10:15 am worship can be trained and scheduled to help at our worship service.   Please contact the Rector if your child is interested in serving as an acolyte.
Nursery Care is offered every Sunday from 10:00-11:45 am for infants and young children. Two experienced adult childcare-providers are available to care for and nurture your children. Kids who find it difficult to sit through the whole church service while Godly Play is on summer break are welcome to play in the Nursery during the service.