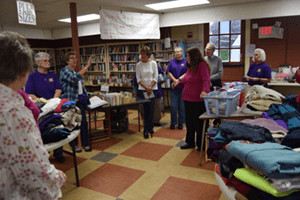 Tag Sale Fundraisers
The St. Michael's Tag Sale is a Southern Vermont tradition!  Held once a year in May, this ministry serves our community by recycling unwanted clothing, furniture, housewares, and other items, offering these items for very low prices to everyone in the community, including those in need.  All of the funds from the Tag Sales go directly to fund local outreach in Southern Vermont.
Many volunteers are needed to support the Tag Sale ministry.  If you are interested in volunteering, please contact the church office at 802-254-6048.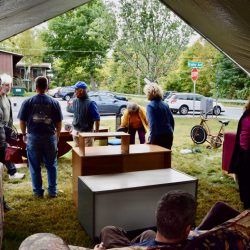 Interfaith Refugee Auction
In addition, this winter (2022) the Tag Sale ministry is hosting an online auction to raise funds for the St. Michael's Interfaith Refugee Ministry.  The purpose of this fundraiser is to help support the two young families- altogether 5 adults and 6 children- from Afghanistan that St. Michael's is sponsoring.  As you may know, the families have recently arrived in Vermont and are getting oriented while they live temporarily at S.I.T..  They will be moving to more permanent housing soon, but will continue to need a lot of ongoing support, including financial help, in the coming year while they begin to put down roots in Brattleboro.
Further information on donating high quality goods, services, artwork or experiences to this effort can be found in the St. Michael's E-News for Tues., Feb. 1, 2022 or by emailing stmichaelsepiscopalbrattleboro@gmail.com(please note, this is an email address for church volunteers, not the church office email) and requesting details.  To access a donation form, go to this website: https://forms.gle/USaeQDpF5PvLYRyX8.  A volunteer will contact you for further information.  Donations are being sought between the dates Feb. 1st and 17th, 2022.  The auction will be live on the website "32auctions.com" from Feb. 19th until Feb. 27th.
Please join us in the fun and in raising funds to help support our new neighbors!