St. Gregory referred to contemplation as "resting in God." In this "resting," the mind and heart are not so much seeking God, as beginning to experience what they have been seeking. – Contemplative Outreach
Be still and know that I am God. – Psalm 46:10
Contemplative prayer is an ancient Christian practice. At St. Michael's, we recognize the importance of ancient practices of contemplative prayer and worship, especially in a culture so full of noise, information, busyness, and unrest. Those who long for quiet and a profound experience of God's presence will enjoy contemplative Christian practices.
We offer training and practice in Centering Prayer, a Christian-based meditation practice. We also offer a weekly contemplative worship service. During different seasons of the year, we often offer small-group studies on contemplative approaches to our faith.
All Contemplative Services are held in St. Michael's new chapel, The Chapel of Mary Magdalene, the First Apostle.   You may enter through the office entrance on Bradley Avenue.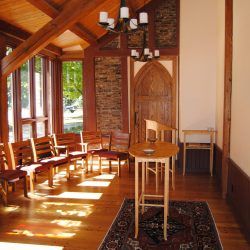 8:00 am Weekdays, Morning Prayer on Zoom every weekday, in-person on Tuesdays and Wednesdays in the Chapel
5:30 pm Thursdays, Contemplative Worship – A simple 30-minute service of chanting, silence, and quiet reflection on scripture (lectio divina). Available in-person and on Zoom. 
8:00 am Saturdays, Centering Prayer  – On Saturday mornings we practice two 20-minute sessions of Centering Prayer (silent meditation) divided by 5 minutes of walking mediation. You may stay for one or both sessions.   Training in Centering Prayer is offered for newcomers.